1 – citizens of bleecker
This was the first spot that came to mind for this assignment — a coffee shop right around Kimmel (counting as "my neighborhood" because that's where my office is). I went there a couple of weeks back and sat on the outside tables, looking into their interior the whole time. The mid-morning light looked beautiful through the big corner windows; the white brick walls and rounded mirror help it bounce around even more. I also loved the neon sign against the mirror, and thought the overall mix of textures (brick, wood, glass, metal, plants) was really interesting. When I came back to take my own picture, it was later in the day and not so sunny — and I felt awkward as hell coming in just to snap a picture and leave. Plus, my camera clearly wasn't clean and I didn't notice it in time. So I'm adding more pictures I was able to find online that capture the place a little better than I did.
2 – bobst lobby
This was another obvious choice, and sadly I also took a pretty poor picture of it. At the time, I was thinking this was an interesting angle because you get some of the exterior light contrasting with the interior. But thinking about it more, I think a fully interior angle would be better — capturing how the gold paneling makes the light bounce around, almost like glitter, and taking advantage of the upward angle to show off all the lines and shapes of the design. To this day, I don't know if the light coming from above is a skylight during the day, or if it's fully artificial. I think the fact that I can't tell is interesting on its own.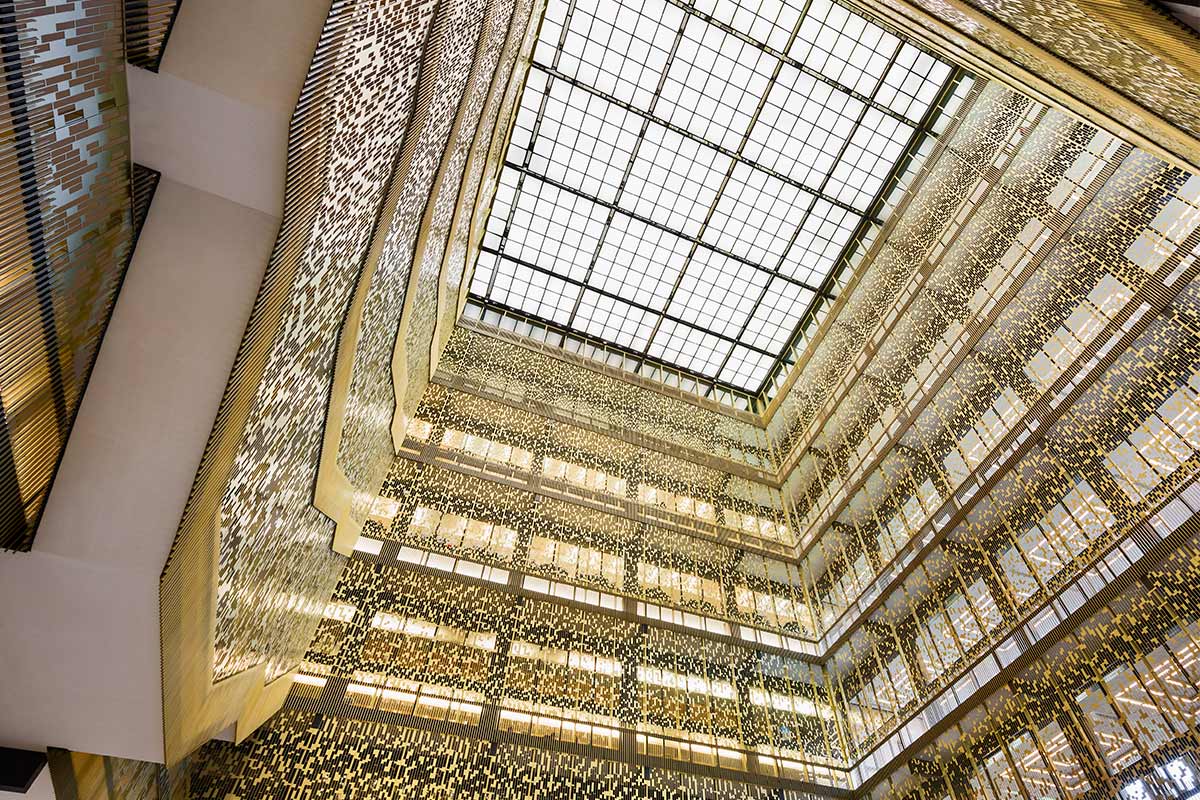 3 – ellis island
Sadly not in my neighborhood! My third picture was going to be my kitchen in the morning light — I waited and waited for a sunny morning and just did not get one this week. So I looked back through my camera roll and found this picture of the Ellis Island museum that I visited last month. I love the way the light comes in through the semi-circle windows and ripples through the tile floor like it's water. You can tell it's bouncing around by the way parts of the barrel ceiling are illuminated, too. I also enjoy the different shapes and textures going on here (two types of tiles for the floor and ceiling; rounded windows with square and diagonal decorations; etc).